Navigating the World of Biohazards: Understanding, Prevention, and Response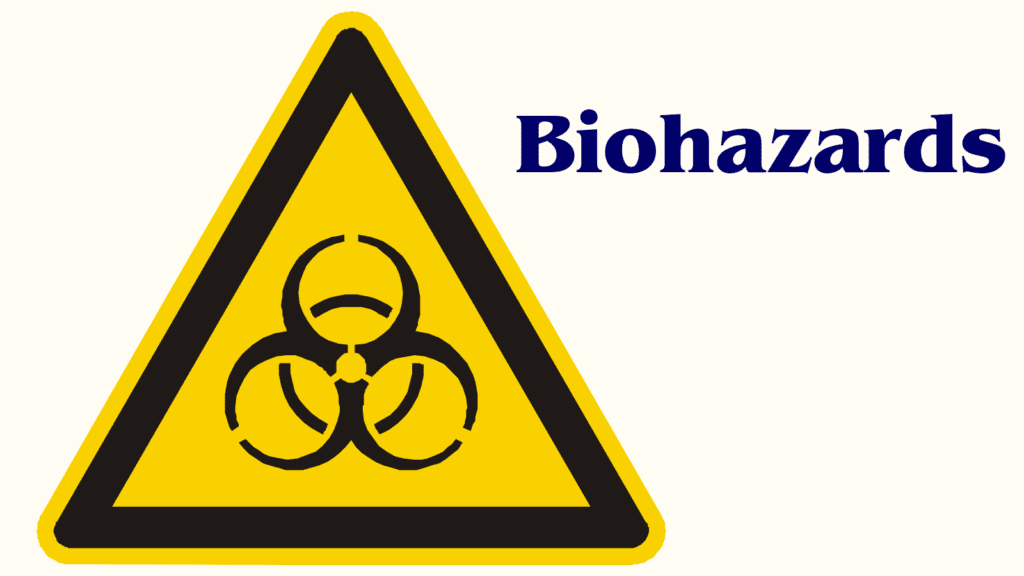 Introduction
Biohazards are a significant concern in various industries, including healthcare, research, and waste management. These hazards, which encompass biological materials that pose potential risks to human health and the environment, require careful management and adherence to safety protocols. In this blog post, we will delve into the world of biohazards, exploring what they are, how to prevent them, and how to respond when they occur.
What Are Biohazards?
Biohazards are substances that pose a threat to living organisms, primarily humans, due to their potential to cause illness, injury, or even death. These hazardous materials can take various forms, including:
Microorganisms: Bacteria, viruses, fungi, and parasites that can cause infectious diseases.
Toxins: Chemical substances produced by microorganisms or plants that can be harmful when ingested, inhaled, or come into contact with the skin.
Human and Animal Tissues: Blood, body fluids, organs, and tissues that may contain infectious agents.
Sharps: Needles, scalpels, or other objects that can cause puncture wounds and transmit infections.
Prevention of Biohazards
Preventing biohazard exposure is paramount to maintaining a safe environment in healthcare facilities, laboratories, and other settings where these materials may be encountered. Here are some key preventive measures:
Personal Protective Equipment (PPE): Proper use of PPE, such as gloves, masks, gowns, and goggles, can significantly reduce the risk of exposure to biohazards.
Training and Education: Employees and individuals working with biohazardous materials should receive comprehensive training on handling, disposal, and emergency response procedures.
Engineering Controls: Implementing engineering controls, such as ventilation systems, can help contain and reduce the spread of biohazards in laboratory and healthcare settings.
Safe Disposal: Proper disposal of biohazardous waste is essential. This often involves using labeled biohazard bags or containers and following specific disposal guidelines.
Decontamination: Regular cleaning and decontamination of surfaces and equipment can help minimize the risk of biohazard transmission.
Responding to Biohazard Incidents
Despite all preventive efforts, biohazard incidents can still occur. Knowing how to respond effectively is crucial:
Isolation: Quickly isolate the affected area or individual to prevent further spread of the biohazard.
Notify Authorities: Contact the appropriate authorities, such as a safety officer or healthcare provider, to assess the situation and provide guidance.
Decontamination: Initiate decontamination procedures immediately. This may involve showering, changing clothes, and thoroughly cleaning affected areas.
Medical Evaluation: Seek medical attention if exposure to a biohazard is suspected. Early treatment can be critical in preventing illness.
Documentation: Keep detailed records of the incident, including what occurred, who was involved, and the steps taken for response and recovery.
Emerging Biohazard Challenges and Future Preparedness
As our world evolves, so do the challenges posed by biohazards. Emerging infectious diseases, bioterrorism threats, and advancements in biotechnology require continuous vigilance and adaptation of our strategies. Here are some considerations for addressing these challenges and enhancing future preparedness:
Surveillance and Early Detection: Establishing robust surveillance systems to monitor disease outbreaks and unusual patterns of illness is crucial for early detection and rapid response to potential biohazard threats.
Research and Development: Investing in research to understand the biology of pathogens and toxins can lead to the development of effective treatments, vaccines, and diagnostic tools.
International Collaboration: Biohazards do not respect borders. Collaborating with international organizations and sharing information on outbreaks can aid in timely response and containment.
Public Education: Educating the public about biohazard risks, preventive measures, and responsible behavior during outbreaks is essential for reducing panic and limiting the spread of misinformation.
Ethical Considerations: Advances in biotechnology raise ethical questions about dual-use research, where the same discoveries can be both beneficial and potentially harmful. Developing guidelines for responsible research and publication is crucial.
Supply Chain Resilience: Ensuring a stable supply chain for medical supplies, personal protective equipment, and essential medicines is vital for managing biohazard incidents effectively.
Scenario Planning: Developing comprehensive scenario plans that outline potential biohazard scenarios and response strategies can enhance preparedness and coordination among various stakeholders.
Staying Informed and Taking Action
Staying informed about biohazards and their potential risks is an ongoing effort that requires continuous learning and engagement. Here are some practical steps you can take to stay informed and contribute to biohazard awareness:
Stay Updated: Regularly follow reputable sources of information, such as health organizations, government agencies, and scientific journals, to stay informed about emerging biohazard threats and recommended safety measures.
Participate in Training: If you work in a field that involves handling biohazardous materials, seek out training programs that provide in-depth knowledge about proper handling, disposal, and emergency response procedures.
Advocate for Safety: Encourage your workplace, community, and educational institutions to prioritize biohazard safety by implementing effective protocols, providing necessary resources, and fostering a culture of safety awareness.
Engage in Discussions: Join conversations about biohazards, public health, and safety measures in online forums, workshops, and seminars to exchange ideas, share experiences, and contribute to collective knowledge.
Support Research: Advocate for research funding and policies that promote advancements in understanding biohazards, developing treatments, and strengthening response capabilities.
Prepare at Home: Educate your family about biohazard risks and develop a household emergency plan that includes steps to take in case of a biohazard incident or disease outbreak.
Promote Responsible Behavior: Be a role model for responsible behavior by practicing good hygiene, adhering to recommended vaccination schedules, and encouraging those around you to do the same.
Embracing a Safer Future
In the face of biohazards, our ability to adapt, learn, and collaborate will define our success in maintaining a safer world. As we continue to grapple with emerging diseases, environmental changes, and the potential for new biohazards, it's crucial that we remain vigilant and proactive. By fostering a culture of preparedness and responsibility, we can build a resilient global community that is equipped to handle whatever challenges may arise.
The journey toward biohazard safety is not a one-time endeavor; it requires ongoing commitment and dedication. Governments, organizations, healthcare professionals, researchers, and individuals all play pivotal roles in shaping our response to biohazards. By supporting science-based policies, investing in research, and staying informed, we contribute to a collective effort that transcends borders and backgrounds.
In closing, remember that knowledge is power. By sharing accurate information, dispelling myths, and promoting responsible behavior, we empower ourselves and others to make informed decisions that safeguard public health. As we move forward, let us embrace the lessons of the past, seize the opportunities of the present, and forge a path toward a safer future—a future where biohazards are met with knowledge, preparedness, and a united resolve to protect the well-being of all.
Together, we can rise above the challenges posed by biohazards and build a world where safety and health prevail.
Don't miss out on updates! Subscribe now to stay informed and empowered!