Body First Ultimate Recovery – INFORMED SPORTS – HMB, Arginine & Glutamine Supplement for Muscle Recovery, Strength, Endurance & Performance, Builds Muscle Mass & Prevents Breakdown of Muscle Protein, Lychee, 325gm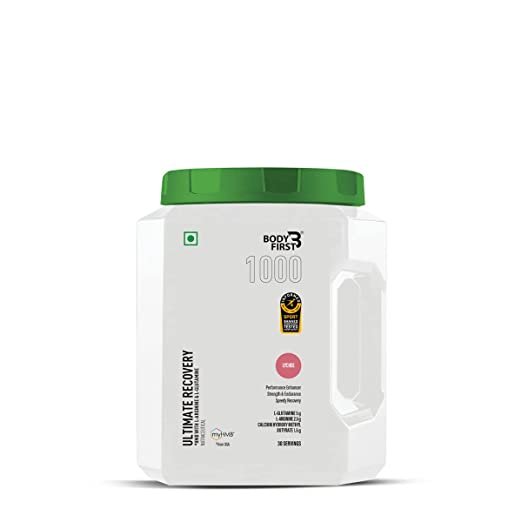 BodyFirst Ultimate Recovery
Combination of HMB (Calcium Hydroxy Methyl Butyrate) with L-Arginine & L-Glutamine
Informed Sports Certified – First time across the globe with this unique combination
Ingredient (myHMB) sourced from USA
Proven Clinical Efficiency for Muscle Recovery
HMB is produced naturally in our bodies during the metabolism of the essential amino acid leucine. However, it's difficult to consume enough protein with a healthy diet alone to achieve the effective amount of HMB. Hence supplementation of HMB is a must as it stimulates muscle protein synthesis, reduces protein breakdown and improves recovery and endurance.
Athletes, aging adults, dieters, active individuals and people recovering from illness or injury have used HMB for decades as a highly effective supplement for improving muscle health and recovery.
The science behind BodyFirst Ultimate Recovery supports improved recovery between workouts, allowing you to train harder and get back in the gym sooner, with less soreness. This allows you to train more, make gains faster, and dominate the competition! HMB supplementation supports improved strength and lean muscle gain, helping you to improve performance in the gym, on the field, in the ring, or on the court.
Health Benefits
| | | | |
| --- | --- | --- | --- |
| Strength & EnduranceHMB with L-Arginine and L-Glutamine replenishes the energy levels that enhances body's capacity to perform high-intensity workouts, lift heavy weights, and also supports resistance training. | Speeds Recovery & PerformanceHMB protects against muscle damage and soreness and helps in faster recovery. HMB is also an excellent performance enhancer that helps the body to use oxygen more efficiently and thereby improves performance. | Reduces Muscle BreakdownHMB acts as a gateway to help keep your muscles in balance by slowing muscle breakdown. | Stimulates Muscle Protein SynthesisRegular consumption of HMB slows down protein breakdown and improves protein synthesis to gain lean muscle mass for overall better response to training. |