Create a Website in just a few minutes with site123
Creating a website can be a daunting task, especially if you are not a professional developer. However, with the help of website builders like Site123, building a website has become easier than ever before. Site123 is a website builder that allows users to create a website without any coding skills. In this blog post, we will discuss the benefits of using Site123 and how it can help you create a website in just a few minutes.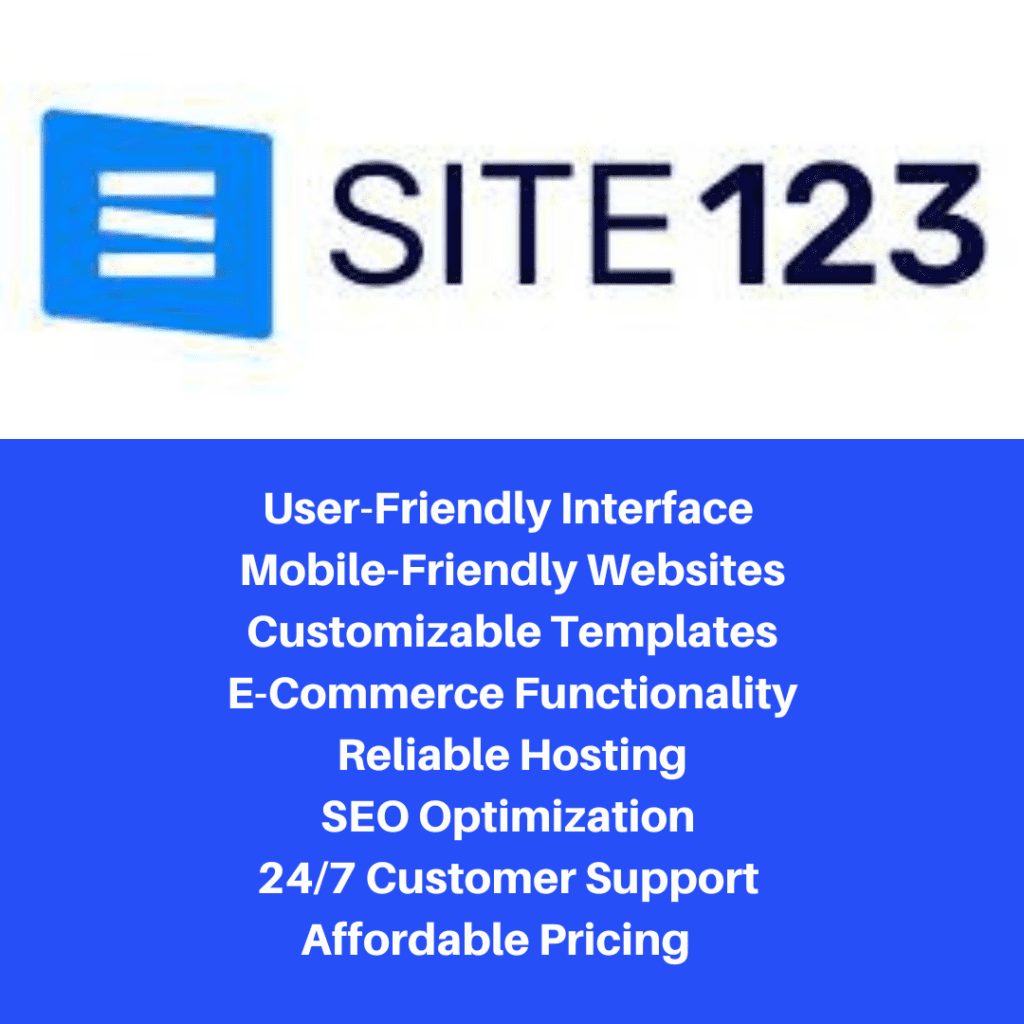 User-Friendly Interface
Site123 has a user-friendly interface that makes it easy to create a website. The drag-and-drop editor allows you to add and move elements on your website without any technical knowledge. You can also use the pre-designed templates to create a professional-looking website in minutes. The interface is intuitive, and you can create your website in just a few clicks.
Mobile-Friendly Websites
Site123 websites are designed to be mobile-friendly, which means that they will look great on any device, including smartphones and tablets. With more people browsing the internet on their mobile devices, having a mobile-friendly website is essential. Site123 ensures that your website will be accessible and user-friendly for all your visitors, regardless of the device they use.
Customizable Templates
Site123 offers a range of customizable templates, which can be tailored to suit the needs of different users. Whether you're looking to create a blog, an e-commerce store, or a portfolio website, you'll find a template that suits your needs. The templates are mobile-responsive, meaning that they will look great on any device, from desktop computers to smartphones.
E-Commerce Functionality
For users looking to create an online store, Site123 offers e-commerce functionality. With this feature, users can create a fully-functional online store with product pages, shopping carts, and payment options. The e-commerce functionality is integrated with popular payment gateways, such as PayPal and Stripe, making it easy for users to accept payments online.
Reliable Hosting
Site123 provides reliable hosting for your website, ensuring that your site is always up and running. The platform also provides a free SSL certificate, which helps to secure your site and protect it from hackers.
SEO Optimization
Site123 provides built-in SEO optimization tools that can help you improve your website's search engine rankings. The platform offers features such as meta tags, sitemaps, and SEO-friendly URLs that can help your website rank higher in search engine results pages. This means that your website will be more visible to potential customers, which can lead to more traffic and sales.
24/7 Customer Support
Site123 provides 24/7 customer support via live chat and email. If you have any questions or need help with your website, you can reach out to their support team at any time, and they will be happy to assist you. Site123 also provides a knowledge base with articles and tutorials that can help you learn how to use the platform effectively.
Affordable Pricing
Site123 offers affordable pricing plans that are suitable for individuals and small businesses. Their free plan includes basic features such as a subdomain, 500 MB storage, and 1 GB bandwidth. Their premium plans include additional features such as a custom domain, unlimited storage, and e-commerce integration. The pricing plans are flexible and can be upgraded or downgraded at any time.
In Conclusion, Site123 is a great website builder that offers a user-friendly interface, mobile-friendly websites, e-commerce integration, SEO optimization, 24/7 customer support, and affordable pricing. Whether you are a blogger, entrepreneur, or small business owner, Site123 has the features and tools you need to create a stunning website. Try Site123 today and see how easy it is to create a website without any coding knowledge!