Rektron 100% Isolate Whey Protein Powder With Digestive Enzymes Zero Sugar Protein – 2 lbs, 30 Serving Low Carb (Alpha Mango Flavour)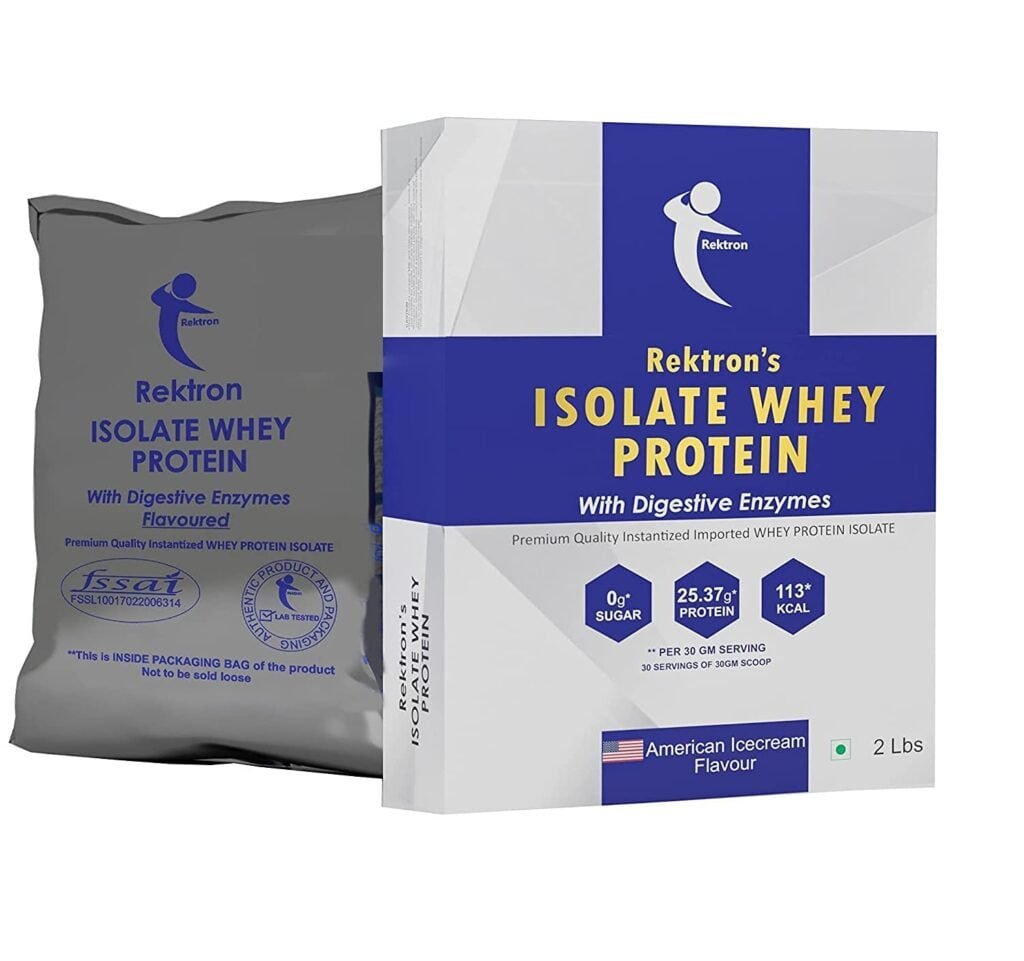 Rektron Healthcare was established in 2017 and since then it is delivery in top notch quality products. He believes in self manufacturing and self marketing hence our motive is to deliver top quality nutrition supplements in India. Rektron is proudly an Indian brand which aims to raise the bar of Indian Protein supplement. It is due our esteemed efforts that customers are rating 4/4.5 star plus to Rektron products without any promotions. With this thought, our vision is to be a leader in providing world-class nutraceutical manufacturing facilities for a healthier world. Rektron has developed a culture of centering on service excellence. The company has provided nutraceutical manufacturing to both large and small players. Our company focuses on developing and providing high quality health & wellness products using superior technology and continuous innovations to provide maximum value to our customers.
About this Product:
Premium Quality Whey Protein Isolate with Digestive Enzymes. Rektron's Isolate Whey Protein – American Ice Cream flavor is a LAB tested product and Nutritional value are as per LAB reports. Rektron intend to serve the actual deliverable than hypothetical values.
Whey Protein Isolates (WPI)
Whey Protein Isolates (WPI) are the purest form of whey protein that currently exists. WPIs are costly to use, but rate among the best proteins that money can buy. By using WPI as the primary ingredient, we're able to pack 0Gm Sugar ,25.37 Gm Protein ,113Kcal into serving of Rektron's Isolate Whey Protein to support your muscle building needs after training.
Direction To Use
Morning: You can use this as a First Meal in the morning to get the Energy and Protein for upcoming Day.
Pre Workout: This can be used as a pre workout shake to get those muscle a healthy and rich source of Protein.
Post Workout: It is really important to have a Protein Rich Diet After an Intense Sessions, hence This can be used as a post workout shake to get those muscle a healthy and rich source of Protein.
Before Bed: According to Indian Tradition we usually take milk before bed. To increase the Muscle you can put a scoop in 200-300 ml of skimmed milk for overnight relies of protein for recovery of muscles.
High Protein Content
Our Protein Delivers 25.37 Grams of High Quality Protein Per Serving (30 Grams) which makes it a highly effective product for muscle synthesis and gain.
| | | |
| --- | --- | --- |
| UsageIt can be used in various ways most effective way is to have 1 Scoop of Rektron's Isolate Whey Protein (30 Gm) in 200 ml of Cold Water & blend for 45 to 60 seconds for a thick creamy shake. Also this can be used to make various types of Shakes, Smoothies, Cakes, Bars. | Promotes Muscle BuildingGain Lean Muscles Like Never Before, With Rektron's Whey Protein. In Its Natural, Raw Form, Whey Protein Is Ideal For Those Who Love An Intense Workout As It Boosts Recovery And Reduces Muscle Loss. | Shape Your BodyThe amino acids in protein are the building blocks of muscle protein synthesis. A whey protein shake consumed before or after exercise helps kick-start this recovery process. |
Hey, we use Wise to send money abroad. Really easy and a lot cheaper than the bank! Give it a try with a fee-free transfer of up to 25,000 INR.