M B Muscle Builder's Lean Athletic High Protein Muscle Mass Gainer with Creatine, 1053 Calories & 40g Protein, Gain Strength & Size, Weight Gainer for Men & Women [Chocolate Peanut Butter,3 Kg/ 6.6lb]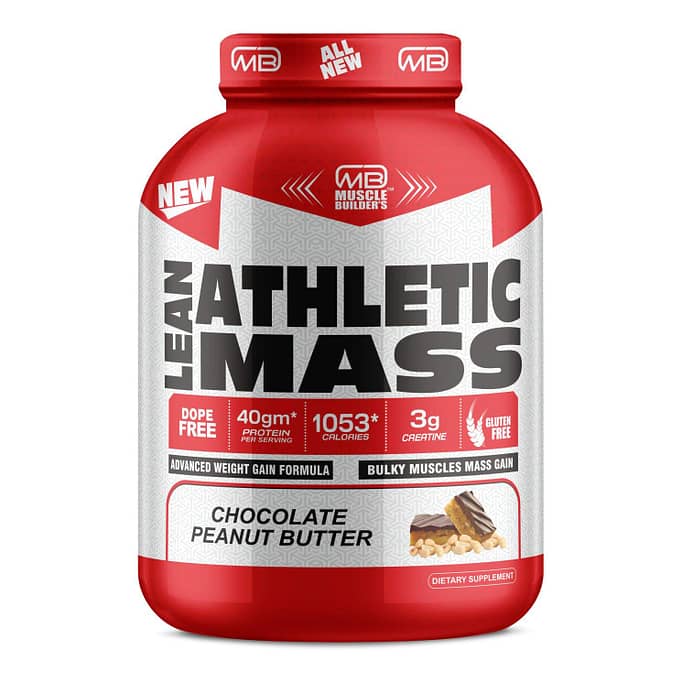 Lean Athletic Mass Gainer delivers a researched combination of creatine and advanced carb matrix, triggering an insulin spike post-workout, transporting creatine straight into the muscle while rapidly replenishing glycogen.
A high-calorie bodybuilding shake fortified with muscle building protein, carbohydrates, creatine monohydrate, taurine and essential nutrients.
40 grams of protein per serving (a blend of fast, medium, and slow digesting proteins) for muscle support. Protein Powder provides high quality proteins that are designed to keep your body in positive protein balance to help promote exercise recovery, provide sustained energy and help build lean muscle.
Perfect for young athletes and hard gainers who want to increase their caloric and protein intake to gain weight fast.
Benefit – High calorie weight gainer which also helps in muscle building and approx. 1,053 calories per serving (4 Scoops).