PLANTIGO PLANT BASED Protein Powder, 24G (Pea Protein & Brown Rice), Men & Women, Muscle Support & Recovery, Complete Amino Acid Profile, Dietary Supplement, Brazilian Chocolate, 500G, 14 Servings
100% WHOLE FOOD ORGANIC INGREDIENTS: Plantigo Protein is a complete organic natural plant protein with 4 organic protein sources, 8 alkalising greens, 6 powerful antioxidants, and 4 digestive enzymes. Certified Non-GMO, Gluten Free and Vegan-friendly protein powder that you need for your daily health.
BUILDS & REPAIRS MUSCLE: Our nutrient-dense formula includes 24g of unadulterated muscle-building protein made from peas, brown rice, flax seeds and pumpkin seeds and 132 calories per serving, ideal for recovering from daily stress and exercise, managing appetite and improving energy.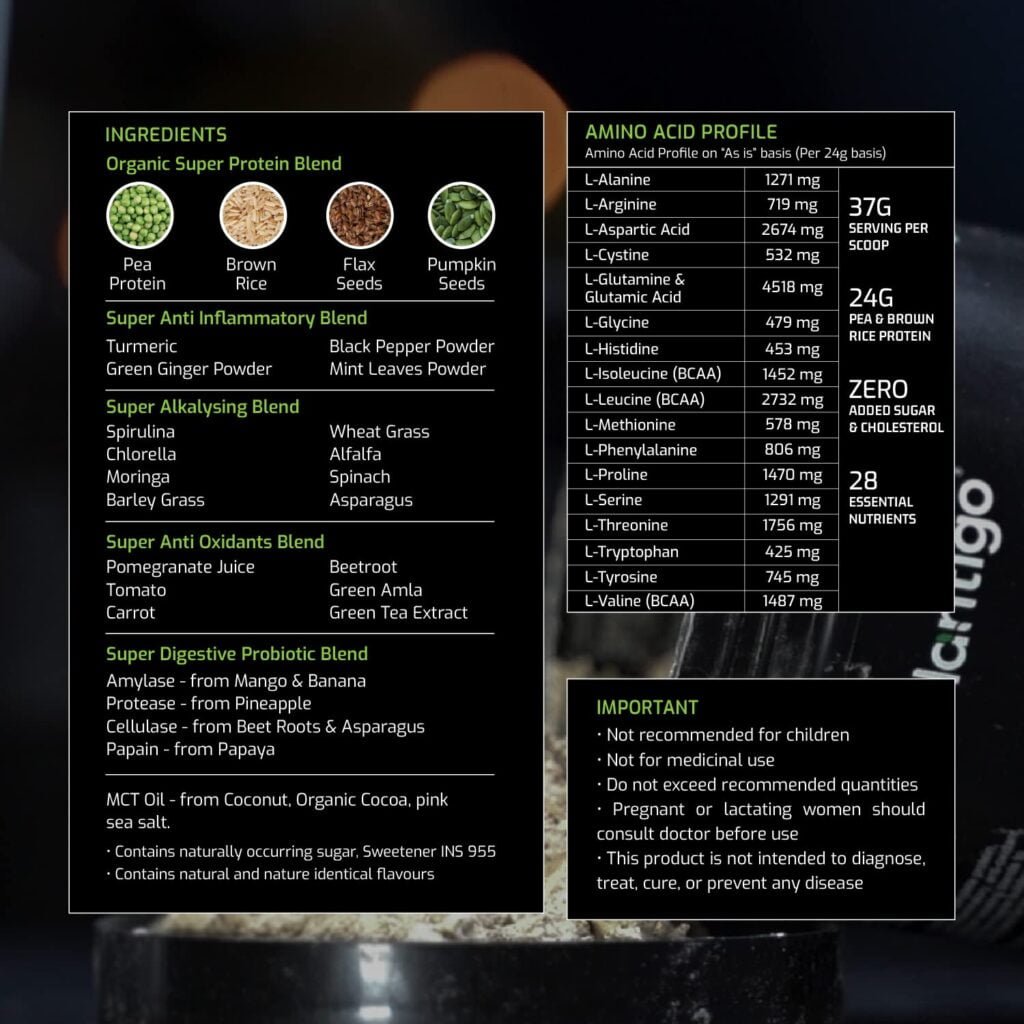 SMOOTH, CREAMY TEXTURE WITH SUPERIOR TASTE: It will take a few extra shakes to mix properly – and that's how your protein shake should be. It will taste a little grainy – so you know everything in it is real. Keep stirring while drinking it for a delicious blender-free protein smoothie for proper absorption.
EASY TO DIGEST: Heat can degenerate proteins, reducing their properties to your body; Plantigo Protein is made at low temperatures, preserving its complete integrity – with 4 digestive enzymes – for proper absorption, even for those with sensitive stomachs.
QUALITY ASSURED: We start with what goes IN our products; whole food ingredients and rigorous standards because we believe in truly clean products you can trust. Contains No Soy, No Added Sugar, No artificial flavors and No Trans fats. The only plant protein powder that compares to animal proteins like whey; Package Content: Pack of 1 Protein Powder. Item Weight: 500 gm.