MEGA GROW RAW WHEY PROTEIN ISOLATE POWDER
MEGA GROW RAW WHEY 90% PROTEIN ISOLATE POWDER WITH SHAKER – Unflavoured | 27g Protein| Energy 111.81 Kcal |6.18g BCAA | L-Glutamic Acid 4.89g| for Growth of the muscles – Pack of 1kg (Total 33 Servings)
👉🏻 90% ISOLATE PROTEIN: Mega grow Raw Whey Isolate is a 90% raw whey protein isolate that delivers 27 grams of protein, and 6.18 grams of naturally occurring BCAAs per 30 grams of serving that promote fast post-workout recovery.
👉🏻 ENRICHED SOURCE OF PROTEIN AND ATTAIN MUSCLE GAINS: Each 1 serving scoop enriched with 30gm whey caters to the need of your body to get muscular potency. Raw protein powder for men and women is efficient to give instant recovery, forming lean muscles, eliminating muscle fatigue, raise the metabolic rate of the body with an average absorption digestive rate.
👉🏻 PERFECT MUSCLE FUEL: The fast-acting Whey contains an amino acid profile-based protein and is particularly balanced in BCAA that makes it great for post-workout muscle recovery and to support the muscle synthesis. The Whey is low in fat and carbohydrates and is an ideal choice for people concerned about calories.
👉🏻 WHEY IN PUREST FORM: Mega grow Raw Whey Isolate 90% delivers the ultimate whey in its most natural, clean, and minimally processed form i.e., free from additives, preservatives, flavours, sugars, sweeteners, amino spiking, or any other external ingredient
👉🏻 FLAVOUR & MIXING FLEXIBILITY: Since this high protein supplement is unflavoured and unsweetened. It might not taste great but offers you the best possible flexibility. You can consume it with additional flavouring as per your likeness in a smoothie, protein shake or recipes like protein cakes, protein bars, etc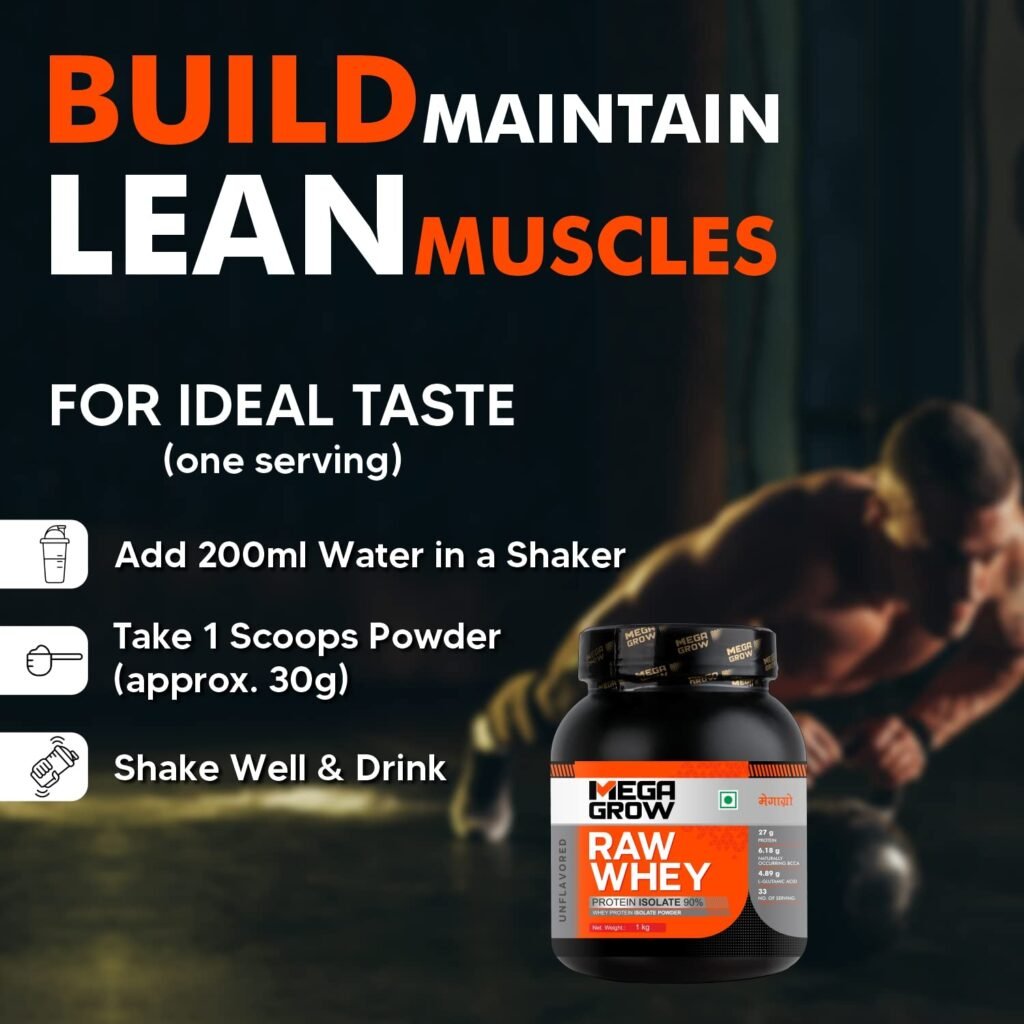 👉🏻 WHO CAN CONSUME: Healthy adults aiming at quality nutrition. Individuals who want to fulfil their protein requirement. Vegetarians who are unable to meet their daily protein. Gym goers / athletes / sportsmen and others who are into physical training & intense physical activity.