Muscle Blaze Omega 3 Fish Oil Gold 1250mg- Triple Strength Formula (560mg EPA & 400mg DHA), 60 Fish Oil Capsules 60 Count.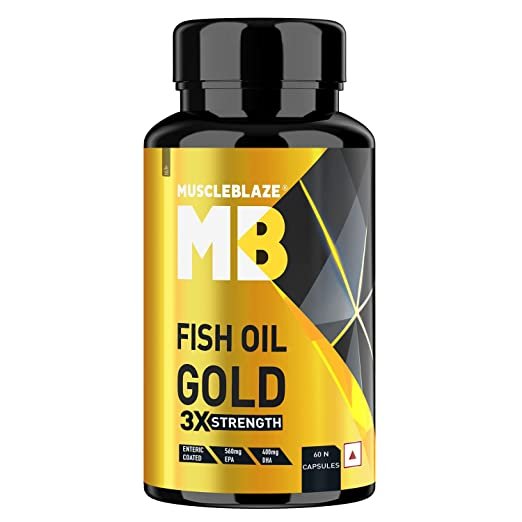 MuscleBlaze Fish Oil Gold – Premium Triple Strength Formula!
MuscleFish Oil Gold with triple strength formula is here to meet your ultimate need for good fats and level up your overall well-being. Because of its enhanced potency, it meets your dietary requirements of consuming as much as three fatty fish every week. It is a necessary health supplement as the body is not capable of making Omega 3 on its own.
Features of Muscle Blaze Omega 3 Fish Oil Gold!
| | | |
| --- | --- | --- |
| 560 mg EPA & 400 mg DHAThis omega 3 fish oil supplement offers 560 mg EPA & 400 mg DHA in each fish oil capsule which is equivalent to almost triple the strength of an ordinary omega 3 fish oil supplement. | Enteric Coated Muscle Blaze Fish Oil Gold is formulated using an enteric coating that allows these fish oil capsules to be digested in the small intestine for enhanced absorption of the nutrients. It also helps get rid of the fishy burps. | Molecularly distilledThese triple strength fish oil capsules have been processed via a high-vacuum molecular distillation to get a pure and premium quality omega 3 fish oil. |
| | | |
| --- | --- | --- |
| Sourced from SardinesMuscleBlaze Fish Oil Gold presents the gold standard of fish oil. This premium fish oil is extracted from cold water fishes, Sardines. It is filtered to be offered in the purest form so that the bodybuilders get maximum benefits. | Better BioavailabilityThese omega 3 fish oil capsules for women and men have better bioavailability which makes them an effective fish oil supplement. Better bioavailability of Triglyceride (TG) form of Omega 3 in it results in better absorption and less fishy burps or aftertaste. | Free from MercuryFish and other marine animals may contain impurities that may harm our health if consumed. Therefore, these omega 3 fish oil capsules are purified to provide completely safe and mercury-free omega 3 fish oil for you. |
Choose Muscle Blaze Fish Oil Gold for Better Health!
| | | |
| --- | --- | --- |
| Joint HealthMuscleBlaze Fish Oil Gold is a boon for all bodybuilders involved in heavy-duty workouts. EPA and DHA in Omega 3 fish oil help strengthen bones and joints by enhancing their flexibility & soothing joint inflammation. | Heart HealthOmega 3 fatty acids help in boosting heart health. 400 mg DHA & 560 mg EPA present in this omega 3 fish oil supplement help in minimizing inflammation, reducing triglyceride levels, and keeping your cholesterol level in control. | Brain FunctionThe human brain comprises 60% of fats out of which a majority is omega 3 fatty acids. The omega 3 fatty acids contain EPA & DHA that are crucial for normal brain function and development through various stages. |