Dr. Morepen Muscle Food Pre-workout | Caffeine, L-Arginine & L- Citrulline| For High Intensity Sustained Workouts | Unique Flavours |Berry Burst Flavour, 250g
STRENGTH & STAMINA : Enriched with a combination of Amino Acids-L-Citrulline & L-Arginine, Muscle Food Pre-Workout 300 can help amp up the nitric oxide system in your body that stimulates vasodilation which means your blood vessels will widen for increased blood flow. More blood flow into muscles means more energy for muscles during your workout. The improved blood flow & circulation will help you achieve maximum muscle pump along with unmatched energy levels.
ENERGY & FOCUS : Powered with 300 mg Caffeine, a highly efficient aerobic and anaerobic performance stimulant, this supplement is effective in enhancing focus, performance, alertness & energy levels. This potent dose of Caffeine can deliver explosive energy that is ideal for intermediate to high intensity workouts. It can also help boost healthy neural function, thus promoting cognitive function and focus.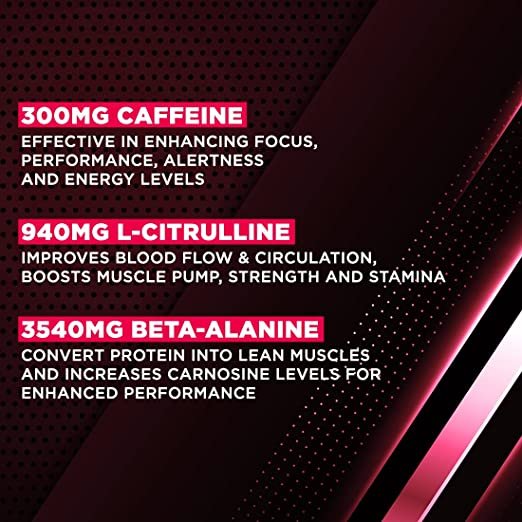 ENDURANCE & PERFORMANCE : Enriched with 3540mg of Beta-Alanine, Muscle Food Pre-Workout supports muscular endurance, strength and fights fatigue. Beta-Alanine helps convert protein into lean muscles and increases carnosine levels for enhanced performance. It can help in reducing lactic acid build up in the muscles, thus speeds up recovery after strenuous workouts.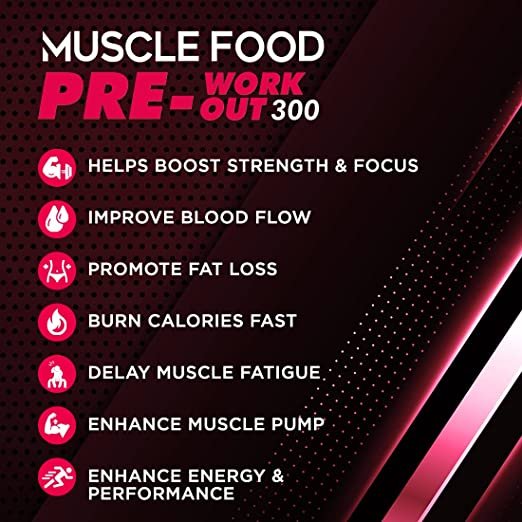 PROVEN INGREDIENTS : Muscle Food Pre-Workout 300 is power packed with proven ingredients-300mg Caffeine, 940mg L-Citrulline and 3540mg of Beta-Alanine per serving (10g) that provide intense energy, mental alertness and nitric oxide support to prepare you for high-intensity workout. This concentrated formula for both men & women is best to keep you charged for the most extreme workouts.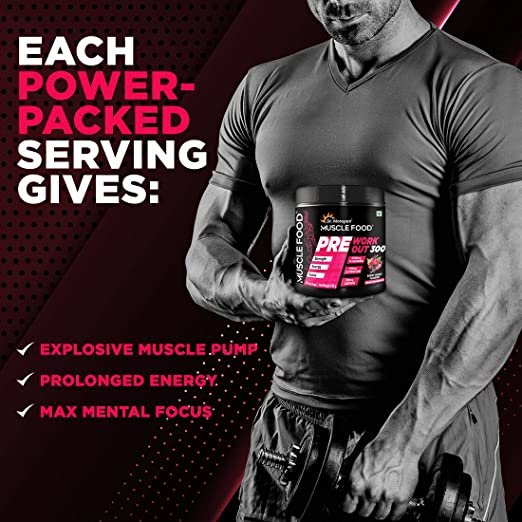 REFRESHING MIXED BERRY FLAVOUR & ZERO CALORIES : This incredibly refreshing, light, and crisp Berry Flavoured Pre-Workout with an identical taste like that of fruit juices is sweetened with natural non-calorific sweetener, making it a great choice for calorie conscious consumers. It has been formulated with Steviol Glycoside to maintain good taste without reducing the efficacy.